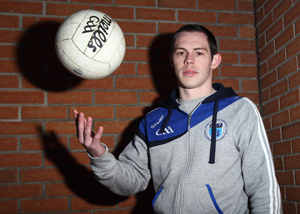 In February 2011 I was covering a Wicklow NFL match against London. Wicklow forward John McGrath was struggling early on and after 20 minutes asked to come off. Little did anybody in the Aughrim crowd know the brave battle he was going to face over the next few months…
Daragh Ó Conchúir

's interview with John was published in the

Irish Examiner

on March 3rd 2012. Daragh received the 2012 National Media Award at the GAA McNamee Awards for "his vivid portrayal of the emotional turmoil for John and his family and the ultimate triumph of life" in the article.
Wasn't always so rosy
Wicklow footballer John McGrath's life was turned upside down 12 months ago when he was diagnosed with leukaemia.
He went to hell and back through a torturous recovery process and though he has since returned to the field with his beloved Baltinglass, he knows he's one of the lucky ones.
It is only a couple of weeks more than 12 months ago to the day — February 20 to be exact — that Rosaleen McGrath went to watch John play football, just as she had done all his life.
She was a little concerned about her 24-year-old son because he had been complaining about a toothache for a fortnight. The dentist insisted the tooth didn't need to be extracted but John was in agony and couldn't play in DIT's Sigerson Cup loss three days previously.
This was Wicklow though, and having had a stop-start career at senior level since making his debut four years earlier, he wanted to build on a promising couple of games.
Trips to Carlow and Leitrim had yielded eight points for John (six from play) and three to the team in their bid to get out of Division 4 of the Allianz League. With London visiting, there was no way he was going to let someone else impress manager Mick O'Dwyer.
He scored a point early on but there was no hiding the struggle. He couldn't track his man and seemed unsteady on his feet. Fortunately, Rosaleen and her daughter, Áine didn't hear the clowns speculating he must have gone on the lash after DIT's defeat.
When John beckoned to the sideline that he could not continue, Rosaleen started crying. Áine was taken aback. Why cry, just because he was being substituted? "When have you ever seen John asking to be taken off before?" came the knowing response.
From there, things moved very rapidly. Within days he was hooked up to a drip undergoing chemotherapy, a three-pronged tube pumping different medicines into his heart.
John McGrath would miss yet another championship with Wicklow, but that was the least of his worries right now.
When hindsight kicked into overdrive during endless hours of lying in bed with nothing to do but think and wonder, he pinpointed something that happened at a friend's 21st less than three weeks earlier as the first sign that all was not well.
He was only going in for an hour, as the Carlow game was on the following day. During a bit of messing, one of the lads hit him a dig in the chest. The pain was much more severe than it should have been. His shoulders were sore as well. His bones were sensitive.
He soldiered through the discomfort, scoring three points before being harshly sent off — a decision later overturned.
Five points against Leitrim the following Sunday seemed to confirm his rude health but nothing could have been further from the truth. Midway through the first half against London, as he struggled to breathe, he finally read the signal his body was giving.
After taking a blood test on Tuesday morning, he went to bed and was still there when the call came from his GP at 3.30pm, telling him he needed to go to St James's Hospital. Immediately.
"They've a feeling it's leukaemia," the caller said.
Reeling from the shock and not even sure what it all meant, he rallied the support crew. Within the hour, his girlfriend Carol and his family were with him at James's. He had a room in the Burkitt Ward by 7pm. By Thursday, chemotherapy had begun.
Everything was moving very quickly, an indication of the situation's gravity. There is no garden-variety cancer and Burkitt's lymphoma isn't amongst the rarest. But it needed instant attention. McGrath's mind was melting with thoughts of the worst case scenario.
"Yeah, definitely" he admits now. "It was a major shock. When I went in, I was under pressure. I didn't know what was going to happen.
"The first nurse I met acted as if nothing was wrong. My mother and my girlfriend were also calm. My dad [Paddy] wasn't so good. He got a bit faint and we had to get the nurses in to give him a little check!"
Paddy was fine, but not his son. Not even fit, strong, inter-county footballers are immune to debilitating illness, the various indignities that go with it or the spectre of death.
There were many low points. The first arrived within 24 hours of being admitted, when he had to go to the Rotunda to have some sperm frozen because of the chance he would become infertile if a bone-marrow transplant were needed.
It never came to that, but he wasn't to know it at the time. It made him feel useless. Helpless.
Then came the chemotherapy.
"I got sick the first three or four days. You couldn't hold anything in. I'd eat and it would come straight back up. It was very tough. After that it was okay but when you were thinking in those first few days that you had 16 days in each cycle and four cycles, it was so tough to think you could do it.
"They had a tube coming into my chest, with three prongs, leading all the drugs into my heart. Once it gets to the heart it pumps quicker to the entire bloodstream. Two-hour bags. And you're just lying there, getting sick."
He was confined to his room because of the risk of infection. Chemotherapy kills the good as well as the bad and so McGrath's immune system was shot.
Once, he chanced a little trek into the outside world. Within minutes he began sweating and got a headache. A dash to the nearest public toilet and the vomiting resumed. So from then on, he never left his isolation chamber apart from when a cycle was finished and he could go home.
One of the drugs removed the lining of his mouth and throat. He was riddled with mouth ulcers and couldn't eat, causing his weight to plummet from 12 stone to 10 and a half.
The closest McGrath came to dismantling was listening to a woman talking on the Ray D'Arcy Show about her son, who had died of leukaemia.
"I was on my own listening to it. I got the link and sent it to Carol. Everything he had gone through was like I had gone through. I just broke down."
Carol came to the rescue. She is a remarkable woman. The couple had met the previous summer and knew pretty quickly it would be more than a fling. They had just moved in together in January and this wasn't how they'd dreamt it.
"It was tough for her, going into an empty house when it was supposed to be an exciting time, the two of us moving in. But over three months in hospital, she never missed a day. She is a rock."
So Carol reminded him his consultant had said the first cycle of treatment had got rid of the tormentor in his blood completely. His story was not that child's story.
It still shook him though. He pictured the leukaemia returning. It was one of the few times he truly despaired. Carol sent D'Arcy an email, passing on her commiserations to his guest, but also telling him "you're after scaring the shit out of my boyfriend".
The last scare arrived as he swotted his way through the summer in a remarkably successful bid to pass his construction management exams in August. His blood levels were low and so another test was required to see if it was a reaction to medication or if the leukaemia had returned.
He was in the library when the phone rang.
"They don't ring you when it's good. When I go for my check-ups, they say, 'go home and we'll ring you if there's a problem'. So I was in the library and they said 'John, how's things?' I said 'Look, I'm in the library, I'll walk out, just give me two seconds'.
"The walk out of the library was the longest walk."
They only had initial results but they were positive and they wanted him to know. He was taken off one of the tablets and everything returned to normal.
Which is how it has been since. McGrath is very anxious to emphasise the fact that more recover from leukaemia than don't. You only hear the bad news. Just like that poor mother and her son on the radio.
"I met one girl. She was remarkable. She got leukaemia two years previous but was pregnant so she couldn't start the treatment until she had the baby. She was perfect, recovered and everything was good.
"She was told she might be infertile but had another baby that year. She was so perfect. When I was in there she was diagnosed again but she was always smiling. She's good now, out again and I'm friends with her on Facebook. She's 100% and it's great."
She was the only fellow sufferer he got to know and that only happened because they were the only two in the waiting room when he went for a chest X-ray. Generally, he found something to read or just kept staring at the floor.
That was his way of dealing. He's afraid it sounds rude but the fact is he couldn't afford to get too close to other patients. He didn't want to know their stories, especially those that were back a second or a third time. He needed to remain positive.
"When cancer is mentioned, people talk about chances, percentages but there's no point. Everyone's different. From day one, I didn't want to know about leukaemia.
"It was something I didn't want to get into. Even the full medical name of what I had I just didn't want to know. I'm still not sure. You'd have the lists of your drugs for your whole cycle. They'd be telling you what each one does and I'd be just, 'yeah, yeah'. I didn't want to know."
It was made clear from the very start that he needed to be upbeat. If you're low emotionally, you're more susceptible to being low physically. That increases the likelihood of picking up an infection.
The message was delivered regularly by the staff, his family and through other avenues. Baltinglass manager Tommy Murphy said something in particular that altered his mindset.
"He said, 'every day's treatment is a day closer to recovery'. It got me through the first month."
That positive affirmation came into play when the doctors told him that he could begin his second cycle quicker than normal, because his recovery had been so good. He jumped at the opportunity. A day closer to recovery.
Where once his room was a jail mired in misery, it was now an oasis of laughter, slagging and card-playing. It was this environment that enabled the chief concern about his hair loss to be that it might grow back curly and ginger.
"I was in the shower one day and it started coming out in my hands so I shaved it tight then. Carol had a few nice hats bought for me in preparation.
"I was actually a bit worried because I was told it might grow back different. It could be curly or a different colour. So I was looking in the mirror every day, anxious to see what would happen. Thankfully it came back normal. A little darker maybe but I'll take that."
Communities rally around in troubled times and the GAA is one large community. Baltinglass, Wicklow, Ireland. He had cards covering an entire wall in his room. Good wishes arrived via email and text, many from people he didn't know. Others he had just heard of. Tyrone All Star Seán Cavanagh was amongst the hundreds who got in touch.
Peter Canavan is his hero, his favourite footballer of all time. So Carol got in touch and the Errigal Ciarán legend called in. That was a real fillip.
So too was getting in contact with Jarlath Corrigan, whose son Cian died six weeks short of his 12th birthday from a spinal cord tumour. Born and reared in Dublin, Cian became immersed in Dungannon Clarkes when the Corrigans moved to Tyrone.
After their brave son's death, Jarlath and his wife Rachael designed a jersey in his memory, celebrating his three loves — Dublin, Tyrone and Dungannon Clarkes — and boasting his favourite number, seven. All proceeds go towards the Northern Ireland Children's Hospice and McGrath was inspired.
"I spoke with John a few times on the phone last year while he was receiving treatment" recalls Corrigan.
"He is an absolute gentleman and we are delighted to hear he is recovering well and back playing the game he loves so much."
Not alone is he back playing with Baltinglass and DIT, McGrath is also manager of the college team that booked a place in the All-Ireland JFC final on Wednesday. Most remarkable of all though, is that he has now returned to the Wicklow fold, targeting a championship return.
As a former minor and U21 captain, he was always tipped for stardom. Yet, despite playing league football on an annual basis, he has only managed limited championship action.
This year though, he won't see much of the league as he builds himself up to the required standard again, dealing with niggling back and hamstring injuries, as well as a wrist problem incurred while snow-boarding in January. Maybe on this occasion, his timing will be better.
He is in no doubt that football saved him. And not just because he had the fitness and strength to fight.
"I was feeling tired playing football. I couldn't sprint properly. You can imagine how bad people are when they're feeling it walking. I was feeling it a little quicker."
So he wanted to get back. Especially as Baltinglass had been drawn in the same group of the senior championship as deadly rivals Kiltegan. The target was set. Without telling his mother of course.
It started on a treadmill in June before he dipped his toe into training with the lads at the end of July, trying to sneak past Rosaleen on the way out the door. He recounts the first real hit he took with relish. He was able for it, and what's more, it was a sign that he wasn't being pitied.
For the same reason, he loved the slagging over his fertility, even though he never had to have the bone-marrow transplant. Best of all though, was that heavenly first 10 minutes of game time.
"That was the nicest feeling I've ever had. I was like a kid running around. I wanted to get on everything. I wanted the ball. Running here, running there, mad to get on it. The greatest feeling ever.
"I got the ball at one stage, 30 yards out and popped it over the bar. First time back. It was some feeling."
It became serious from then on. With 20 minutes remaining against Kiltegan, Baltinglass were four points down. McGrath was sprung and announced his return with a point in a nail-biting win.
It isn't the win that is remembered though. It is how local jousting was suspended for one brief moment, as supporters from both sides united in applause to greet McGrath's score. Rosaleen was there, as usual.
This time her tears were ones of joy.
*John McGrath would like readers to buy a Team Cian Jersey by contacting Jarlath Corrigan (00447905529918) or Rachael Corrigan (00447840296122) or visiting the Facebook page, Cian Corrigan's Weekend. All proceeds go to the Northern Ireland Children's Hospice.