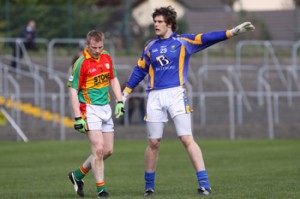 Mick O'Dwyer is a household name as a GAA manager in Ireland. He has 8 All-Ireland Senior Football Championship wins with his native Kerry and Leinster Senior Football Championship wins with Kildare and Laois.
Micko was manager of Wicklow from 2007 to 2011. He was known for his conservative use of substitutes but what happened in Dr. Cullen Park in April 2009 shocked Garden County fans.
Wicklow were having a serious off-day and trailing Carlow in an important League match. Things went from bad to worse when full-forward Seanie Furlong got injured with 15 minutes to go. Micko scanned the bench for a substitute for one last throw of the dice. Outfield players prepared mentally to come on but Micko had made his decision. No back, midfielder or forward would be required. Substitute goalkeeper Billy Norman from Greystones was sent on as full-forward complete with goalkeeper gloves.