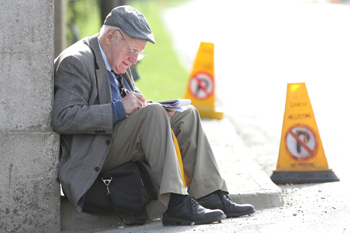 I took this photo back in April 2011 after a Wicklow NFL match in Aughrim.  Peter Keogh was waiting to be collected on the road outside the main gates. He obviously decided that standing up waiting was wasted time and sat down on his bag to start work on his match report. I spotted him sitting in the corner of my eye in a 'No Parking' zone. 
Peter is a legend in Wicklow GAA. The article below also really gives you a vivid picture of his passion and energy for GAA. 
Daragh Ó Conchúir

's article on Peter Keogh was published in the

Irish Examiner

on June 13th 2015. 
"They always say here, the best place to find me is somewhere near the teapot."
Peter Keogh isn't unusual as a local GAA reporter for The Wicklow People, The Nationalist and KCLR 96FM in that no game is too insignificant to cover. Club or county, male or female, U12 or senior, he is likely to be there.
It is a safe bet though that there aren't too many working journalists in any sphere that are so active, despite having just turned 86. Is he the oldest? He can't be far off it.
On May 23, he celebrated his most recent birthday in Mullingar as Wicklow hurlers secured their Christy Ring Cup status by defeating Mayo.
As much as this delighted him, with hurling being his favourite sport, getting down to Blessington for a junior A football championship game was his priority.
It has become an infatuation. He attended the recent Leinster Championship tie between Dublin and Longford at Croke Park on a rare Sunday off and still found himself pulling the notebook out to take notes that he would more than likely never peruse.
The level of energy is remarkable. On his 80th birthday, Keogh walked to the top of Lugnaquilla, the highest peak of the Wicklow Mountains, to raise funds for the Michael Dwyer's underage club.
His contribution to Gaelic games extends far beyond writing. Indeed his reportage only materialised as a result of taking on an administrative role in the now-defunct Western board. He brought hurling to Kiltegan, was Wicklow's first PRO and is a former county chairman too. Having filled almost every role, he is now president.
People wonder how he keeps going and why but he is fit, healthy and has nothing else to do. Seeing as he was immersed in the GAA until he retired from the County Council 21 years ago, with so much time on his hands, in his eyes, there's no excuse for stopping.
His late wife Mary didn't possess the same passion for the GAA but she was a Cork native, from Carrigaline, so she knew the time of day and understood her husband's dedication, not just to club and county, but to publicising the games on a wider level.
So tomorrow, Peter Keogh will be in Páirc Tailteann with his notebook and phone. And a mug of tea.
The son of a blacksmith was born in Talbotstown in 1929, the year the local club Kiltegan was formed. It dissolved and reformed a few times before being established in its current guise in 1966.
Since then, they have won two county senior football championships, doing a senior, junior A and junior C treble in 2008. They won eight senior hurling titles in 15 seasons too, including the 1993-95 and 1997-99 three-in-a-rows.
"We had no radio. We had no daily papers — 1936 was the first time to really start being aware of it, as everyone was talking about Wicklow being in an All-Ireland final. It was the year they won their first ever junior football final."
Tom Keogh brought people to the game in his lorries but a heartbroken Peter had to stay at home. The seven-year-old anxiously waited and wondered all day until late in the evening, he heard two men cycling up the town shouting at the top of their voices that Wicklow had been victorious. It was the first hit that triggered the addiction.
"We were very late starters in the GAA in Kiltegan. We're a little village right on the border of Carlow. As well as that, it was an Anglo-Irish village, you could say. There were three or four fairly big estates owned by Protestant families."
They collected coupons from Fry's Cocoa jars to buy a football, having to raid the bin of a local man with a particular enjoyment of the product to accumulate the required number. As there was no team in the village, Peter and his comrades played underage with Baltinglass and at adult level with Rathdangan.
If the GAA wasn't flavour of the month around Kiltegan, hurling was from outer space. It made a brief appearance during World War II because leather was in short supply and so nobody had a football. There was a plentiful supply of ash around the Humewood estate though.
The Gillespie family had a sawmill and they made a few hurleys, while Peter and his friends made sliotars by getting corks from the pub and tying them together with tea-twine. They wrapped a makeshift cover around it and the game was on.
"Knowing nothing about the game of hurling, the inevitable was going to happen. Somebody was going to get hit by a hurley. And didn't it turn out to be Tom Gillespie, the son of the man who was making the hurleys.
"It might be a slight exaggeration that there was a bonfire to burn the hurleys in the middle of the town, but hurling was done away with."
Until a group of people including Keogh got it going in the 1970s. The football team was struggling badly and the consensus was that they might as well try something else. It proved a wise move and the two codes are working well in tandem, although it can be a strain on tight resources at times.
Peter's love affair with hurling goes back almost 70 years.
"I started to work at St Patrick's College around the end of the War, initially to be a gardener's apprentice but I was really a general dogsbody. I didn't care as I was getting a few bob and I wanted my first bicycle. In that time you had to order them and wait. My name was down a couple of years but it finally arrived in the summer of 1947. My brother Jack got one at the same time.
"We had cousins in Dublin who we used to visit and then go to the odd All-Ireland football final. So when we got the bicycles, we said we'd book the All-Ireland straight away. It was to show the new bicycles to the city cousins as much as anything. Everything was set until somebody told us there was no All-Ireland. We couldn't believe that but Canon Hamilton, the Clareman, had taken the All-Ireland final away to New York. The brother came up with the idea of going to the hurling final.
"Says I: 'We know nothing about hurling.' "'Who'll know that only ourselves?' says he, 'and we'll get to show off the bicycles anyway.'"
Off they went, trekking up to Dublin to flash the bikes. The match was an afterthought. They barely knew that it was Cork and Kilkenny, or that Jack Lynch was in pursuit of a seventh All-Ireland victory in a row. What they stumbled upon is still considered one of the best hurling All-Irelands ever, with the Cats denying Lynch and Cork by a single point.
"I could not believe what I was looking at. I could see nothing at the beginning until I stopped looking for the ball and looked at the direction lads were running in. And I got into it. I'd never seen anything like it in my life and I was a hurling fanatic from that day until this. I still believe that there is no game like hurling."
His first county convention was in 1954, which he attended as a club delegate. He didn't become involved seriously in administration for another 16 years. At that juncture, the county was divided into four districts. The clubs persuaded Jack Boothman to become chairman of the Western board but the future GAA president was unable to find someone to become secretary.
"I said to myself, after about the third meeting where no-one would take it, 'Aren't we a right shower of so-and-sos? We get the man in, he's elected, we cheer to high heaven. Then when he wants somebody to do something we won't do it.' So I took the secretary's job at that stage and from that day to this, the GAA has been my life."
He held the position for the best part of a decade until the dissolution of the district boards. He later became chairman of the county board and has filled most other roles, including becoming the first PRO.
That was a natural fit because he had begun writing by that stage, sending in "bits and pieces" to The Wicklow People from the time he became secretary of the Western board. Then, in 1972, he began providing regular notes from his region. His predecessor had died suddenly and a meeting was organised with the paper's editor.
"He said to me 'Would you ever send us in something for a couple of weeks until we get ourselves sorted?' So as far as I'm concerned they haven't gotten themselves sorted yet because I'm still sending in the stuff!"
Initially, he became the West Wicklow reporter for Gaelic games. Eventually, just as happened at St Patrick's, he was called upon to do whatever was needed. Reports, news and the weekly column, Keogh's Corner. Boothman always joked about him tapping away on his mobile typewriter during the many spells of inactivity he had as a steamroller driver.
Through his service to the county, Peter is known everywhere. His media presence has given him an even greater profile.
"Some would be looking for you maybe to say something good but there'd be a hell of a lot looking for me to say something bad. 'You wrote something about my son last week and I want to see ya about it' and a lady waving an umbrella over my head. It's not all sunshine!"
Wicklow are big-priced underdogs against Meath. A dreadful league campaign in which they won only one game in Division 4 has left optimism amongst supporters at a premium. But it's a good opportunity to bring up the 1954 clash at Croke Park, if nothing else.
It was 'The Day of the Long Count', when Wicklow led by two points at the end of regulation time. Referee Bill Delaney — the Laois legend after whom the Leinster trophy is now named — felt that there was much more time to be played. Just how much is debated to this day.
"In Wicklow, they tell you that he played 13, 14 and even 15 minutes extra-time but he didn't. The daily papers recorded that he played nine minutes. Because Meath went on and won the All-Ireland, we would always have said we should have won that All-Ireland. Of course that's not the way it works."
Wicklow earned their revenge three years later thanks to a late goal from John Timmins, while it is often forgotten now that they brought Meath to a replay in 1991, after the Royals had survived that four-game battle with Dublin.
Two years ago, Wicklow only lost by five points in Aughrim. The game hinged on "a most extraordinary turnabout" about 10 minutes before half time. The hosts played into a gale and were trailing by just two points when they were awarded a penalty.
Seanie Furlong's kick was saved by Paddy O'Rourke, who was fouled. The ball was transferred quickly to Kevin Reilly and his kick from just outside his own 65 flew a prodigious distance, taking one massive bounce over John Flynn's head into the net.
"That was a turnaround of six points in a matter of seconds and we didn't recover from it."
They've had a few setbacks this year already.
"One of them was losing Seanie Furlong, who's gone to America. Leighton Glynn dropped off the panel to concentrate on hurling. They're big losses.
"James Stafford is still there and will give it all he has as he always does. Kevin Murphy and John McGrath are good footballers. Young Conor McGraynor is one they'll be looking to big time for scores. Of course he's likely to be full-forward and Meath are well known for producing great full-backs."
He knows Mick O'Dowd through a mutual acquaintance and has even had dinner in the Meath manager's home. He enjoyed his company.
"That doesn't mean he's going to do us any favours on the day."
It is another Micko that stirred the emotions in Wicklow like no other however. Both a journalist's dream and nightmare, what he stirred was a pride in the county once more.
"From my point of view, it was the greatest time in Wicklow football. We didn't win that much but there was a whole new approach to the team. I think if he had gone another year or two it would have been good but he had already done five.
"There was always a great crowd of journalists after every match. A whole lot of new fellas found out where Aughrim was at that time. Micko was a great man to give you plenty of chat and still tell you nothing.
"No matter how badly they played and they did at times, he never let them down. He stood by them and was able to turn the conversation away from that part of it."
There are so many memories. The pride in having Gerry O'Reilly, Jim Rogers and Joe Fitzpatrick on the Leinster team that won four Railway Cups in a row in the '50s. Baltinglass garnering an All-Ireland club title. Kevin O'Brien and Pat O'Byrne winning All-Stars and representing the country. Boothman becoming GAA president. Wicklow winning the special All-Ireland minor hurling championship and Keogh being selector when they won their division of the league.
There are many more to come he hopes. Certainly, the vigour seems boundless. How, you wonder, does he do it?
"There's no secret really. I just enjoy the damn thing."
More info: