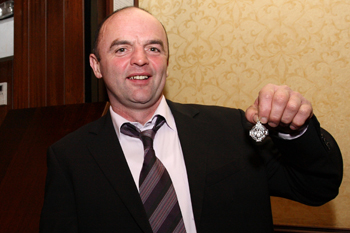 Mick Murtagh played club football for his club Dunlavin and was a great servant to his local club and county. He first played senior football for Dunlavin in a Senior League match at the young age of 14 but amazingly played the next 28 years without any championship medal of any description to show for his devotion.
The barren spell however finally came to an end in 2009 when he played at full-back throughout Dunlavin's successful run in the Intermediate Football Championship.
He finally collected that elusive medal a few months later at the Dunlavin Dinner Dance. The occasion turned out to be a double celebration as it was also his birthday. It was worth the wait?!
*Update – Mick Murtagh returned to Intermediate Football Championship action in 2015 at the age of 48… To be continued…*